Amafilter® have an extensive range of filtration systems suitable for food & beverages, chemical and mining & mineral applications. We specialise in the design, engineering, manufacture and delivery of systems that maximize the efficiency of our customers' plant filtration processes.
Our products have been designed, engineered and manufactured to meet the highest product and design standards and can be custom built to meet your specific process application requirements.
Our products have been developed to meet all safety and environmental standards, and we work tirelessly to develop products which deliver cutting-edge filtration solutions that have a direct impact on your process applications and do so in a safe and productive manner.
We work with our customers to design filtration solutions that meet their specific applications needs, utilising our expertise and laboratory facilities to design custom made solutions.
We also provide a rental programme to meet specific customer requirements.
Please CONTACT US to discuss your specific filtration needs.
Cricketfilter®
Vertical Pressure Leaf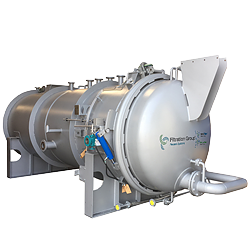 Horizontal Pressure Leaf
Services
We take our responsibility in partnering with our customers seriously and provide a range of services aimed at supporting our customers effectively and assisting them to resolve their filtration challenges.
Contact us
Find out more about how amafilter®, part of Filtration Group, can assist you solve your solid liquid filtration challenges and improve your processes.